The shape of the bear's paw has a more sense of design. Not only is it a pet bed when placed in the house, but it can also decorate the house and make the house look more comfortable and warmer. This soft pet bed is designed with pets in mind.
1. Made of plush, super soft and super warm. Comfortable touch, pets love to sleep on it.
2. Extreme soft plush and cotton-padded cushion provides maximum warmth and coziness for your pet.
3. This cozy bed is lightweight and portable for travel. Easy for transportation and convenient to carry
4. Warm and comfy bed for pets in small size, such as puppy, cat, kitty, dog, pet rabbit, guinea pig, etc.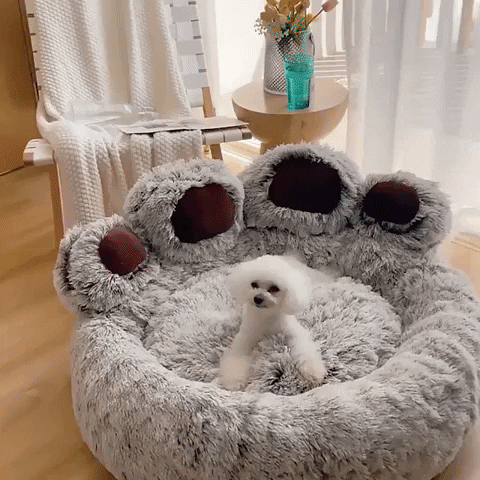 Bear Paw Dog & Cats Mattress – easy Cleaning
Pets can present some unique cleaning challenges, this removable dog bed cover is fully machine washable for your convenience, this bed has a shell that can be fully moved and cleaned. Hand wash or gentle machine wash recommended. Short plush reduces pet odor and unwanted hair. Moistureproof and waterproof design on the bottom keeps you and your pets cleaner and more comfortable
Accessories
Super soft short pile dog bed accessories become skin friendly and non-toxic, durable fabrics are not easy to break. The bottom and side pads have enough pp cotton, and the short plush can provide your dog with an ideal sleeping surface, keeping the dog bed warm and comfortable.
Scene
Perfect for any place like sofa, floor, high place, living room, porch, balcony, hallway, etc.
Specification
Item Type: Dog Bed
Color: Coffee